In this post I am going to take you through a behind the scenes look at what it takes to sound design and mix a film over a weekend. I'll spend some time to break down the key components that flesh out a film's soundtrack. From cleaning up dialogue, to cutting background ambiences, designing key effects and transitions, performing footsteps and cloth movements from my keyboard sampler, and spending the critical time to shape the soundtrack through the final re-recording mix process, there certainly was little time to spare.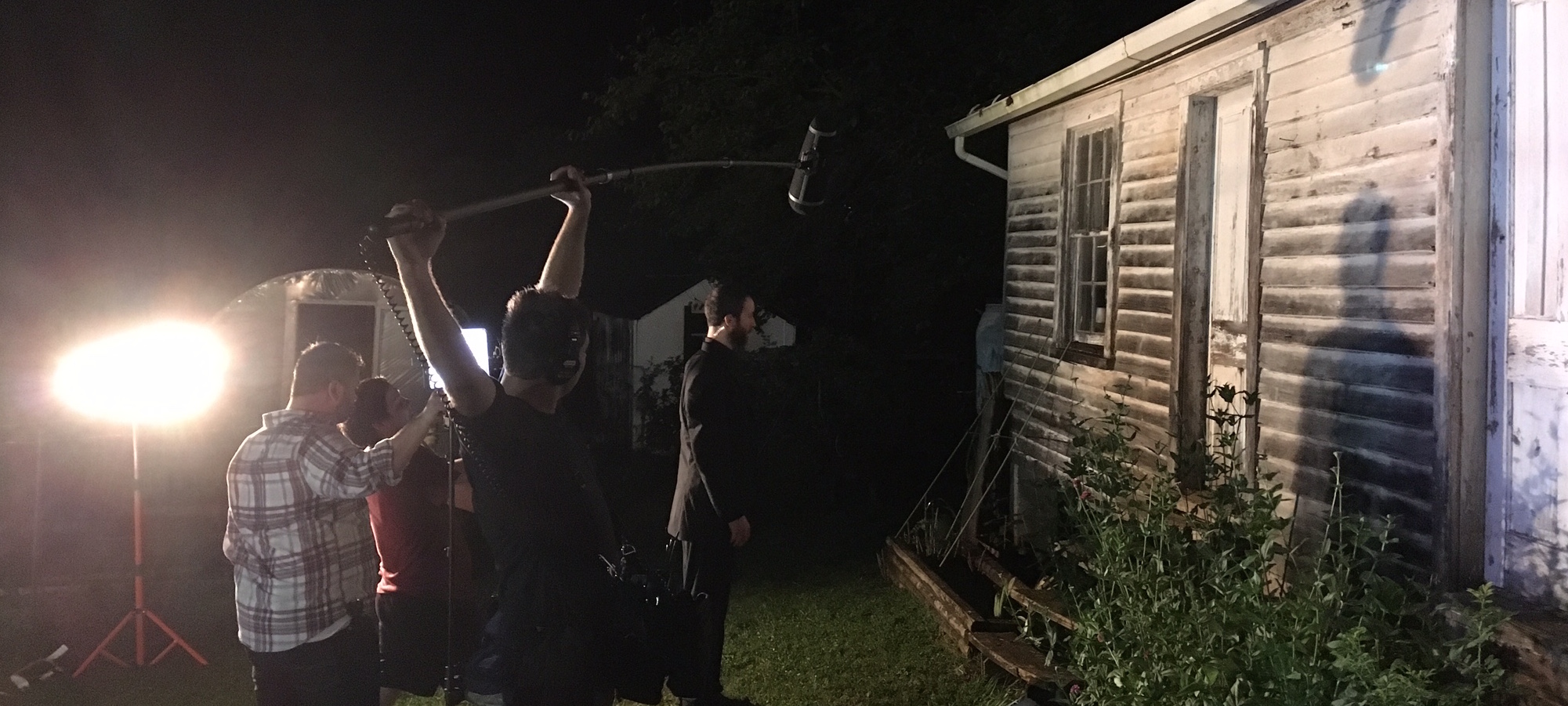 For the film itself, the criteria was simple… sign up a team and come the Friday evening of the beginning of the event, you receive a specific genre to abide by as well as a specific prop that must be included and likewise a specific line of dialogue to be interweaved. Everything has to be done from scratch and a final delivered short film from 5-7 minutes needs to be received 48 hours later on Sunday evening.
We got the genre of sci-fi and our prop to incorporate was a hair dryer and the must be included line was "From now on I call the shots." Immediately following the kickoff event we began to brainstorm and by midnight we had enough scripted to begin shooting the first couple night time sequences where our main character Jon arrives on scene to investigate the "anomaly".
We had a small close knit crew of friends about six people wide. I handled production sound, and my brother was on camera co-directing the project.
My main microphone of use was the rugged RØDE NTG3 shotgun microphone utilized within my Rycote Cyclone Blimp. It's directional pickup pattern was key to minimizing off axis distracting noise sources.
For redudancy as well as for wide shots, I relied upon the RØDE Lavalier concealed underneath the talent's clothing. Paired with Lectrosonic transmitters, the RØDE lav was especially useful during the wide shot in the outdoor field as well as scenes where one of the characters would walk near the camera and away from it, allowing me to focus the Boom on the primary talent and relying on the ability to mix in a few lines from the lav when the secondary talent was farther away on camera.
We finished the night scenes just before the sun came up Saturday morning at 6 a.m. We all headed off to bed for a few hours of sleep to then all convene late afternoon to finish up the remaining day time scenes. We filmed in a vast wheat field full of incessant bug sounds, then moved onto filming in two different indoor locations. Late Saturday night Joel began the edit in Adobe Premiere Pro and I went to catch some sleep as come early Sunday morning it was my turn to hustle all day for the final sound design and mix of the film.
A Behind the Scenes Look at Post Sound for a 48 Hour Short Film from Mesmeric Films on Vimeo.
When it came to post production sound, I also utlized my favorite studio microphone, the tube amplified RØDE K2 for a lot of the background voices used to help create a perceived larger off screen reality. I solicited the help of some of the other crew to lend me their voices as well, with my brother Joel using his home RØDE Podcaster mic and the composer for the film, Daniel Ciurlizza using his favorite Rode NT1.
The RØDE iXY paired with my iPhone 5s also proved yet again to be a handy tool. I always have it within reach anytime a great sound is begging to be recorded. After we wrapped a number of locations I would gather a few minutes of ambience of which I later incorporated into the film to flesh out the sonic environments in the 5.1 surround space.
The Switch - Team Pixelated Pictures - Lynchburg 48HR Film Festival - 2016-HD from Mesmeric Films on Vimeo.
We hope you enjoy what we came up with for this year's 48 hour film festival. Checkout our cities' chapter of the 48 hour film festival.
Jonah Guelzo is an accomplished sound designer and has worked for and collaborated with many production companies on the East and West Coasts working on numerous feature films such as Divergent, RoboCop, and Furious 7.